News
Adventure. Travel. Race.
There's nothing like getting off an international flight, going back to work running a business the next day (thinking it's night time, when it's day time), Oh, and racing bikes three days later! For Nick and I, this was a little bit of a stretch, but when there's a Cascadia Dirt Cup Enduro on local trails, you've got to represent! Even if your bike needs a full overhaul from it's latest Madeiran mud bath....

Post Canyon is well known for its expansive trail network and variety of trails. From old-school free-ride to machine built flow, Post Canyon has a little bit of everything. This year, it had been under snow until the week prior to the event, so trails only just opened up to bike access. The course went a little something like this:

Stage 1: Dirtsurfer to the creek
Stage 2: Lower Dirtsurfer to the road
Stage 3: Top of the World through Borderline
Stage 4: Antoines Ridge
Stage 5: 140 to the bottom
Stage 6: Mitchell Ridge

Deciding to sleep more than practice, we took one lap, and called it good. Whatever happens, happens, but we needed to listen to our bodies.

Turns out, the dirt was as tacky and perfect as we've ever seen for the area, and we rode pretty fast.

Despite a nasty lung infection I picked up on the airplane home, I managed to take home the chicken dinner, and Nick a 3rd place despite one "off" to avoid a volunteer on course. #htfu for the win!

Here's hoping for a quick recovery from the black lung before the next race.

Race recap: www.pinkbike.com/news/2017-cdc-post-canyon-enduro-recap.html

See you on the trail,

Kim Hardin

---
Powered by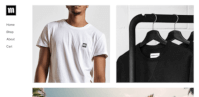 Create your own unique website with customizable templates.