News
Adventure. Travel. Race.
I've always loved Bellingham. Tons and tons of trails. Lots and lots of rad people. Delicious food. Near Orca's Island. Close to BC. What's not to love?!

Anytime there's a chance to race in Bellingham, I'm in! This year, the Cascadia Dirt Cup returned for it's fourth stop to the Chuckanuts, just SE of Bellingham. Known for it's tech, and rock work, Chuckanuts is full of variety. No steeps, just pure tech on Upper and Lower Ridge, dodging rocks and weaving trees. Super pedaly Raptor Ridge, and fast, flow, jumpy/drops on Double Black.

This was a girl's trip. We all drove separate, but we all practiced together (in sort -- Thanks for the shuttle Porscha!), and giggled our way down the trail on race day. At the risk of sounding cliche, there really is something cool about a group of shredder ladies, and all that estrogen. Nothing but support for one another, sharing the stoke on trails and lines, knowing we all cared about race results, but cared more in the moment for each other and the experience we were creating. Like I said, a rad group of ladies!

Stoked to walk away with the win in one of my favorite places!
​
Kim Hardin


Powered by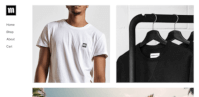 Create your own unique website with customizable templates.