News
Adventure. Travel. Race.
When the course maps were released for EWS Round 1, I knew we were in for some big days on the bike.

Right out of the gate, Chile got real: no shuttles for practice, and lots of pedaling.

In four days (2 days practice, 2 days racing), we would spend 24 hours on our bikes, pedaling 120 miles, with over 20,000 feet of climbing.

Don't get me wrong, I love to pedal, and recently found my love for climbing QOM's (go figure), but Chile would be a new challenge: managing practice appropriately in order to not start the race weekend completely and utterly exhausted.

​The adventure began each morning with a 30 minute ferry/water-taxi ride across the channel from Niebla to Corral, the official race venue. Practice began each day at 9am sharp, and was all about getting to know the jungly terrain, not to mention, remembering how to ride in the heat of summer -- it was HOT. Really HOT. Most important, was managing the legs, spinning up climbs, ignoring the climbing pace of those around me, and instead focusing on keeping my heart rate low, and taking my time.

​

Americans Syd Schulz, myself, and Teal Stetson-Lee ready to start day 2 (Photo: Nick Hardin)

Race day came and went, as we ladies hustled our transfers, ensuring plenty of time for tire psi-checks, and start-line dance-offs. All in all, EWS #1 can be described as RAD. Yes, the transfers were long, and it was HOT, but the riding was spectacular. In Corral, Chile, t

he dirt can only be described as "powdery loam", not the anti-grip of Northern Chile that I'd heard so much about -- it was awesome: lots of fun, with just the right amount of traction.

Dropping into the lower section of Stage 2 (Photo: Sven Martin)

Courses ranged from twisty-turns luge courses to steep-as technical switchback trails. Dropping into stage 5, I couldn't help but giggle at the wicked steep switchbacks, characteristic of some of our local trails in the Columbia River Gorge.

​I had a little personal victory, cleaning all but one of the gnarly switchbacks-- life's about the little things!

About half the ladies of EWS #1 (Photo: Sarah Leishman)


​For my first race of the year, I'm pretty happy with the results: 13th place, and First American Girl.

Off to Argentina for EWS Round 2!

Kim
Powered by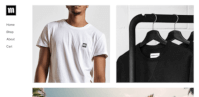 Create your own unique website with customizable templates.