News
Adventure. Travel. Race.
Stage 3, Argentina (Photo Sven Martin)


EWS Round 2 was a battle. It was challenging, it was hard, it was terrifying. At first, riding waist deep ruts full of sand was frustrating, and seemed impossible.

As Sarah Leishman puts it,

"I think the key thing that separated the fast riders from those of us who flailed all weekend was a willingness to embrace the chaos and the wildness of the riding and enjoy it." Eventually, with some serious pep talk, and a whole lot of creativity, it became fun, as riders right and left were slashing brown pow, and I learned riding sandy ruts was possible.

EWS Round 2 took place at Cerro Cathedral, one of Argentina's premiere ski resorts located just outside of Bariloche, Argentina. Bariloche is a town of german influence, located on the Southern shores of Lake Nahuel Haupi, with a well known chocolate manufacturing industry, as evidenced by it's "Chocolate Mall" that we became so intimately familiar with. The Enduro World Series did us a favor when the chose Bariloche: cheap eats of huge portions of steak tenderloin and french fries, lots of french fries. Don't forget about the empanadas...

Practice started early with shuttles on Stage 2 -- a rocky start, some tight, loose turns, and some deep, sandy turns in the flat -- I quickly learned that riding in Argentina required very little to no front brake, and whole lot of creativity. Six total stages were split 50/50 between the bike park proper, giving us the opportunity to use the gondola to re-coup our legs after our big weekend in Chile the week prior.

Dropping into Stage 2 high above Lago Gutierrez (Photo: Nick Hardin)

Looking down on the start of Stage 3

Pedaling through the woods on Stage 1 (Photo: Sven Martin)

The race weekend came and went as I chose to ride conservatively, and keep it rubber side down. Argentina was a true learning experience for me, and I am grateful to have had the opportunity once again ride alongside the fastest ladies in the world. After two days of sandy ruts, I placed 15th, First American Girl.

Special thanks to Yeti, Chris King, Easton, FOX, Race Face, Smith Optics, Dakine, Kate's Real Food, Hood River Organic, Vim & Vigr for a great start to the season!

​Kim Hardin

Powered by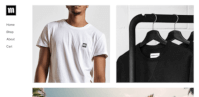 Create your own unique website with customizable templates.