News
Adventure. Travel. Race.
Helmet, knee pads, gloves, check! The three must-have's to go riding. I guess you could toss in eyewear too.... If you're like me, you're always on the quest for a pair of knee pads that not only serve their purpose, but stay up, and are comfortable even on the longest of days in the saddle.

Enter Dakine's Slayer Pads. I've been riding in these pads since February, and gave them some serious abuse. I tried to destroy them, riding over 200 days through all weather conditions, tried to ruin them with regular washer/dryer sessions (over 150 times!), one too many Technu treatments, and more.... needless to say, they are still kicking, and still as comfortable as ever.

Read on.....

Comfort: I've tried a number of knee pads, and the CE-certified Slayer knee pad is one of the most comfortable I've ridden in. The DK Impact pad itself is a "soft" pad, that hardens up on impact, and is pre-curved allowing for all-day comfort. Lightweight and low profile, the pads feature a super thin "AriaprenePro" mesh (w/odor control technology!), of sorts, allowing the knee pads to breathe. Silicone cuffs keep the pads in place and secure even in the roughest conditions (hot/cold weather, rain, sand) and terrain (technical, bouncy, smooth, etc). Lack of velcro makes for a non-binding, comfortable pad that stays in place.

Fit: Just like any other knee pad, the pads do stretch a bit with breaking. Once broken in, the pads are money! The combination of the fit and silicon cuffs can make them difficult to get off at times -- better than slipping, I say!

Coverage: Good coverage of the knee itself, as well as some of the shin -- Just the right amount.

Durability: After a full season of use (February - November), including international travel and the associated lack of appropriate care when traveling, some around the house gardening, and a stint in the washer and dryer after more or less every use, I'm proud to say that my knee pads are still kicking after a long season of racing. Even though the silicone has "cracked" slightly and started to peel, they are still plenty sticky, and stay right where I put them. Considering they've got at least 200 days of riding, and 150 rounds in the washer/dryer, I'd say these Slayer pads are beasts -- I've tried to abuse them, and they just keep going!

Pedaling: The Slayer's fit snug around my knee, but do not bind when pedaling -- you won't even notice them when descending. You might notice them on an extended climb, but they are not uncomfortable, nor do they hinder movement.

Impact: I've taken some solid impacts directly onto my knee(s) while wearing these pads and walked away unscathed. In the gnarliest crash, I think I got a little cherry on me knee underneath the pads, but no bruising or actual gash. The fabric covering the pad is plenty durable-- it won't tear or rip with an impact. The "soft" Impact foam gives you the protection of a big bulky pad, but in a comfortable, low-profile package.

Warranty: 2 year limited warranty... What more could you want?

While you may be saying to yourself, "You ride for Dakine- you're biased", I chose to ride only the highest quality of product -- product that I can stand behind and count on as a rider and racer. I've been fortunate to try a large number of knee pads, and these are the absolute best on the market. Do yourself a favor, and treat yourself to an early Christmas present -- you will be stoked!

Don't forget, Dakine makes a Slayer Elbow Pad as well, same construction, comfort and feedback!

See you on the trail,
​Kim Hardin

Powered by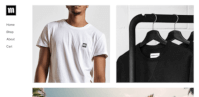 Create your own unique website with customizable templates.