News
Adventure. Travel. Race.
Mark Twain once said, "Twenty years from now you will be more disappointed by the things you didn't do than by the ones you did do." So... we went to Idaho! While we weren't originally planning to attend the North American Enduro Cup, we decided to on a whim to go, with the hope to put some more money toward our van fund (did I mention we're building a van? More on that later...).


"The North American Enduro Cup is a one-off race that embraces all the regional race series: the CDC, the Idaho Enduro Series, the Montana Enduro series, BC Enduro, and MTB Enduro (a Mexican Enduro race organization). Initially, the Cup was planned to be a race series, but with the announcement of the North American Enduro Tour (NAET) becoming an EWS qualifier, the Coalition adopted more of an Enduro of Nations format: a one event race with teams as well as individual racers competing against each other." (Pinkbike).

Stoked to check out a new venue, Nick and I left Hood River after a full work week on Thursday, to arrive around midnight to a nice camping spot just outside of Silver Mountain Resort, near Kellogg, Idaho. Just in time for practice... don't mind the thunderstorm delay!

Between rainy, foggy, snowy practice, and perfect dirt, what evolved over the course of the weekend was one of my favorite stateside events,

ever

! Silver Mountain Resort has it all -- bike park-style jump lines, loose steeps, flow, drops, and plenty of pedal sections to go around. Did I mention there is a gondola? YES!!! And the field of 13 pro ladies who rallied for the event? So Awesome!

By the end of the weekend, we'd seen all kinds of weather, and all sorts of terrain. Nick managed a flat, but had some solid stage finishes throughout the weekend, and I brought back some time for the "W"! Time to drive back to Oregon in time for an 4:30am work wake-up -- rough, but worth it...


Pinkbike coverage of the event: http://www.pinkbike.com/news/north-american-enduro-cup-recap-2016.html

Pinkbike Bike Check: http://www.pinkbike.com/news/2016-naec-bike-check.html


See you at the next race!

​Kim
Powered by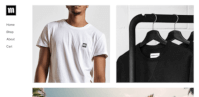 Create your own unique website with customizable templates.