News
Adventure. Travel. Race.
Seven days off the bike, makes one weak (Week). Fourteen makes one even weaker.

After the Hood River CDC, my lungs quickly took a turn for the worse. After three weeks of misery, I decided it was time to investigate. Turns out bronchitis is a thing, and burning one's lungs racing, falling asleep snoring with your mouth wide open (pointed at the air vent) on a long flight home, followed by racing a few days afterward, is BAD.

Enter an inhaler one month later, and a big dose of oral steroids for a week. Two more weeks, and I was feeling a smidge better, but slipped backwards, as I kept trying to train. Concern for tuberculosis grew (international travel), however, a chest x-ray gave me the all clear, and the next day I was off to Idaho to try race the NAEC. Phew!

The North American Enduro Cup was a two-day event held at Silver Mountain, Idaho for its second year in a row, this year as part of the National Enduro Series, and also an EWS qualifier. Known for its variety of flow and tech trail, Silver Mountain is soon to be a well-known mecca for mountain bikers of all abilities. Outside of Whistler, it's hands down my favorite bike park!

After a long week at work, a quick six hour drive, and a sleepful night in the van, I was up to meet up with the one and only Kathy Pruitt for practice. Dust was thick and the air dry, making breathing difficult, however, it seemed to get easier by the end of the day. Most memorable was sending "Baby Swiss" a big(er) step down on stage 2 -stoked to see a sizable, scary feature on stage. There's nothing like a practice day that feels like nothing more than riding with friends.... really FAST friends.

Unfortunately, Kathy had a catastrophic incident and rolled her ankle, leaving her to exit the race. From here on out #irideforkp ....

Race day came, and my string of mechanicals started. Stage 1 made quick work (read: first 30 seconds) of my derailliuer and rear wheel, leaving me somewhere between wanting to sit in a corner and cry, and yell out in anger. Instead, I put a grumpy smile on and took the gondola up to the next stage, fighting back whatever number of seconds I lost, for the rest of the day. Don't even talk to me about breathing.... At the end of the day, I was impossibly, but truly, sitting pretty by 30 seconds. No way! ​

Day 2 featured Stages 4 & 5: one techier, and the other a top to bottom 20 minute descent of Silver Mountain.


Steady as she goes, and I managed another "W" aboard my Juliana/SRAM equipped Roubion. Big thanks to Chris King, Dakine, SMITH, Kate's Real Food, Dumonde Tech, Giro, Squish Dynamics, RE Sports Wellness, and more for all the love and support this year!

​

Huge thanks to my husband, Nick Hardin, for holding down the fort so I could represent #htfu in Idaho! <3

​Race Recap:

www.pinkbike.com/u/North-American-Enduro-Cup/blog/the-2017-cannondale-north-american-enduro-cup.html

Kim Hardin

See you on the trail,

Kim Hardin
Powered by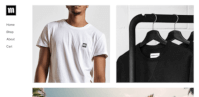 Create your own unique website with customizable templates.