News
Adventure. Travel. Race.
It's not every day you get to do a Pinkbike "Bike Check" with your husband (Photo: Cam Sloan)


​The Cascadia Dirt Cup has fast become one of Nick and I's favorite series to race. Put on by a rad, dedicated group of PNW shredders, the CDC is FUN, and puts us on the best trails in the region. Their timing is spot on, as is their scheduling, and more or less everything else.

Since returning from Whistler, we'd been looking forward to racing Chuckanuts, as it has some similar slab-like features, and one particularly fun descent trail known as Double Down. It's in our backyard, sort-of (5.5 hours away), yet in a zone we don't venture to very often. What better an excuse than to go to Bellingham!

"Shark-fin" slab on Upper Ridge, Chuckanuts WA (Photo: Cam Sloan)

In our usual fashion, we rolled into Bham casually late after a full day of work (or early : 1am, depending on how you look at it). We woke up bright and early, and straight into practice, joining Nick's Teammate Kyle Warner for a few shuttles. After practice, this is what we had to work with:

Stage 1: Upper Ridge: Fast, some slabs (see above photo), punchy steep climb, hard left to wicked fast descent to fire road.

Stage 2: Lower Ridge: Ridgeline trail. Two main slab options- way faster on right. Second w/ tricky lead-in. Tight, loose turns at the bottom.

Stage 3: Raptor Ridge: No time = BLIND. Who knows? Supposedly a cool transfer though on a hiking only trail, cool!

Stage 4: Double Down: Longest stage? Sick descent. Swoopy S-turns on the first half, road crossing, three FUN step-downs. FUN FUN FUN!

Come race day, we both had a blast, and learned that despite watching video from horseback of Raptor Ridge, it was nothing like we had anticipated. Lots of switchbacks, and the climb that we'd hear rumors of never came. Hmmmm...

All in all, minus a small mechanical on Nick's part we both had a decent weekend. He managed to stay on his bike despite, and rode away with a top ten. I had a good day, and came away with the Win -- Guess we're stopping in Seattle for a fun night out on our way home!

Pinkbike: www.pinkbike.com/news/cascadia-dirt-cup-round-four-chuckanut-race-report-2016.html

​Pinkbike Bike Check: http://www.pinkbike.com/news/cdc-round-4-naet-round-6-chuckanut-bike-checks-2016.html

Next stop- Tiger Mountain for the CDC Finals!

Kim Hardin
Powered by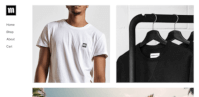 Create your own unique website with customizable templates.