News
Adventure. Travel. Race.

​You are what you eat! ​

As athletes, it is vital for us to ensure we are eating CLEAN in order to reduce the amount of overall inflammation in our bodies, and ensure we are getting the phytonutrients, vitamins and minerals our bodies need to perform and recover quickly.

Our rule of thumb is to consume as few processed foods, refined sugars, flavorings and preservatives as possible. We eat according to an "Anti-inflammatory Diet", and do our best to keep our intake of "inflammatory foods" low: dairy, gluten, red meat, caffeine, etc. Instead, we eat a healthy portion of fruits and veggies daily -- the more fibrous the better! Fruits and vegetables provide a plethora of anti-inflammatory phytonutrients, giving our bodies what they need to perform at their best, and recover quickly!

Why an anti-inflammatory diet? While the inflammatory process is an important part of healing, persistent inflammation damages the body and causes illness. Inflammation may be caused by: exposure to toxins, genetics, stress, lack of exercise and, the less commonly known: FOOD! By reducing the amount of inflammation in your body, you improve your overall health, increase longevity and prevent disease. You will not only feel stronger, you will perform better.

​When choosing your fruits and veggies, it's important to be mindful of their source. If you're aiming to reduce inflammation but you're eating produce with exposure to chemical pesticides, you're kind of defeating the purpose. Look for locally grown, ORGANIC produce, particularly for "The Dirty Dozen" (see below).


​But Why Hood River Organic?
​Hood River Organic is based in Hood River, Oregon, and provides weekly (or bi-weekly) CSA delivery of locally grown fruits, vegetables and local add-ons to Hood River, The Dalles, White Salmon, Portland, Beaverton, Tigard, Vancouver, Bend, and Seattle. If you care about your body, and believe in the mantra, "You are what you eat", do yourself a favor and choose Hood River Organic.

Customizable: Each CSA Box is customizable, weekly. We decide how many of each fruit and vegetable, and choose fun local add-ons, such as: Ten Speed Coffee, Cascade Creamery Cheese, NuCulture Cashew Dip, Portland Ketchup, Blue Bus Kraut, Columbia Gorge Organic Juices, Nuts and more... It's like grocery shopping online!
Accessible: Home delivery and pick-up options.... almost too easy!
Locally Grown: Support your local economy! Grown in the PNW, we are provided with year-round quality, organic produce.
Environmentally-Sustainable produce: Hood River Organic uses natural pesticides, and traditional fertilizer. Chemical pesticide-free food means less inflammation!
Pay as you go, and Delivery Hold: Going on vacation? No problem... put your box on hold!Exposure to produce:

It's not uncommon for us to get a fruit or vegetable in our box that we've never tried before. Or one that we wouldn't have purchased that particular week at the store. We are forced to think "outside the box" to use that ingredient, which exposes us to new recipes, and gets us out of that recipe rut! Strawberry Rhubarb Muffins, Homemade Kimchi, Spring rolls/wraps, fresh-made juices!

USDA Organic certified
Oregon Tilth certified
​Good, quality produce
Reasonable prices

Hood River Organic saves us time, and makes grocery shopping easy. We simply customize our box, and pick it up every Wednesday at KickStand Coffee & Kitchen. We know what we're getting, and can plan the rest of our meals around the produce. Fruits and vegetables are of the highest quality, and most importantly, grown locally, organic, and environmentally-sustainable. We can feel good about supporting our local economy, while eating healthily, and improving our athletic performance.

Get involved and

sign up today! Sign up for a single box today and get 25% off your first box. Just head over to the store, enter the code FB25% in the coupon code, and get 25% off your first box.

Follow me on

Facebook

for weekly delicious, easy-to-make recipes using ingredients from our Hood River Organic CSA Box!

Kim and Nick Hardin
Powered by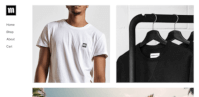 Create your own unique website with customizable templates.